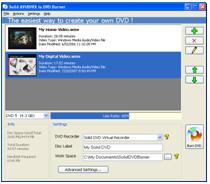 Name: Solid AVI/DIVX to DVD Burner
Version: 1.2.7
OS: XP/Vista/Win7/Win8/Win10
Size: 59 M
Price: $59.95 $39.95 40% OFF!




This version is for Windows™. If you are using Apple Mac OS, please click here.
Main Functions:
- Convert AVI to DVD, burn AVI to DVD;
- Convert and burn DivX, MPEG, wmv (more than 60 video types) to DVD;
- Create DVD movie disc with your own subtitles;
- Burn AVI to DVD disc or ISO file.
Key features
---
- Support nearly all video files: avi, divx, wmv, mpeg, rm, mp4 and over 60 other video formats
- Support all DVD players, Media Centers or Home Cinema Set
- Support DVD 5, DVD 9, Mini DVD, Mini DVD DL
- Reliable burning engine will burn your videos to disc after encoding
- Create your own subtitles (up to 32 for each video) via AVI to DVD Burner
- Create DVD chapters freely via AVI to DVD Burner
- Click to convert and burn; easy to use interface
Support Video formats
---
AVI files: *.avi | MPEG video files: *.mpg;*.m2v;*.mpeg | QuickTime files: *.qt;*.mov | MPEG 4 files: *.mp4;*.m4v | Windows Media Video files: *.wmv;*.asf | 3GPP files: *.3gp;*.3g2 | Flash Video files: *.flv | HD QuickTime files: *.hdmov | Matroska files: *.mkv | Motion |JPEG video files: *.mjpg | Nullsoft Video files: *.nsv | NUT files: *.nut | RealMedia files: *.rm | Smacker files: *.smk | Vorbis files: *.ogm
Support subtitle formats
---
Text-based subtitles: *.txt | SSA\ASS subtitles: *.ass;*.ssa | SubRip subtitles: *.srt | SubView subtitles: *.sub
Support Recorder Drives
---
CD-R, DVD-R, DVD+R, CD-RW, DVD-RW, DL DVD+RW, HD DVD and Blue-ray Disc. AVI to DVD Burner supports almost all recorders that you can find.