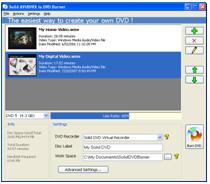 Name: Solid Mp4 to DVD Converter and Burner
Version: 1.2.7
OS: 98/2000/XP/2003/Vista/Win7
Size: 5.9 M
Price: $42 $29.95 30% OFF!




This version is for Windows™. If you are using Apple Mac OS, please click here.
MP4 to DVD Main Functions:
- Convert Mp4 to DVD format, burn Mp4 to DVD disc;
- Create DVD movie disc with your own subtitles;
- Burn MP4 to DVD disc or ISO file.
MP4 to DVD Key features:
---
- Support DVD-R, DVD+R, DVD-RW, DVD+RW, DVD-5, DVD-9, Mini DVD, Mini DVD DL
- Reliable burning engine will burn your videos to disc after encoding
- Create your own subtitles (up to 32 for each video) via MP4 to DVD Burner
- Create DVD chapters freely via

Solid Mp4 to DVD Converter and Burner
Mp4 to DVD Support Video formats:
---
MPEG 4 files: *.mp4;*.m4v | Flash Video files: *.flv | AVI files: *.avi | MPEG video files: *.mpg;*.m2v;*.mpeg | QuickTime files: *.qt;*.mov | MPEG 4 files: *.mp4;*.m4v | Windows Media Video files: *.wmv;*.asf | 3GPP files: *.3gp;*.3g2 | HD QuickTime files: *.hdmov | Motion |JPEG video files: *.mjpg | Nullsoft Video files: *.nsv | NUT files: *.nut | RealMedia files: *.rm | Vorbis files: *.ogm
More about MP4 to DVD:
MPEG-4, formally ISO/IEC 14496-14:2003, is a video and audio container format standard specified as a part of MPEG-4. It is most commonly used to store digital audio and digital video data, especially for MPEG, but can also be used to store other data such as subtitles and still pictures. Just as most modern container formats, MPEG-4 Part 14 allows streaming over the Internet. The official filename extension for MPEG-4 Part 14 files is .mp4, that's why the container format is often referred as MP4. Get mp4 to dvd from SoftPedia.
Some devices advertised as "MP4 players" are simply AMV video capable MP3 players, and do not play MPEG-4 part 14 or any other MPEG-4 format. You may need some video converter software to help you play MPEG-4 videos on you MP4. For example, MPEG to DVD software.
MPEG-4 Part 14 was based on Apple's QuickTime container format. MPEG-4 Part 14 is essentially identical to the QuickTime MOV format, but formally specifies support for Initial Object Descriptors (IOD) and other MPEG features.
MP4 versus .M4A file extensions
The existence of two different file extensions for naming audio-only MP4 files has been a source of confusion among users and multimedia playing software products. Since MPEG-4 Part 14 is a container format, MPEG-4 files may contain any number of audio, video, and even subtitle data, making it impossible to determine the type of streams in an MPEG-4 file based on its filename extension alone. In response, Topviewsoft Inc. started using and popularizing the .m4a file extension. Software capable of audio/video playback should determine files with either .m4a or .mp4 file extensions, as would be expected, as there are no video or audio data format differences between the two extensions. You can choose the file extensions when authoring these videos.
While the only official file extension defined by the standard is .mp4, many file extensions are commonly used worldwide to indicate intended content.
Related Topics
---
More Topics ...